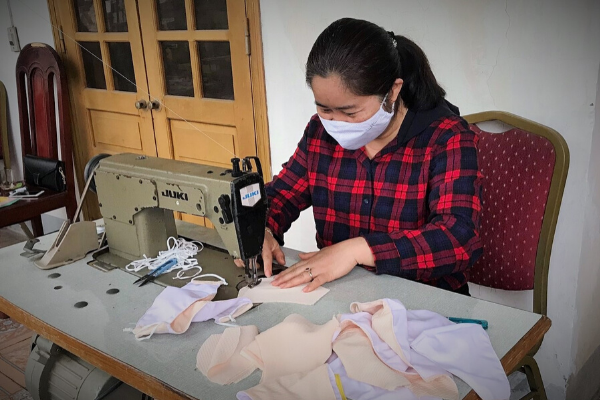 As of May the 14th, there have been 288 confirmed cases of Coronavirus in Vietnam. 252 patients have fully recovered and no deaths. More than 261,000 tests have been performed.
The Government has relaxed social-distancing rules and has allowed the resumption of non-essential services including bars as long as they maintain preventative measures. Since our last update, schools have reopened (every child in Vietnam is now back at school for the first time since February 1st!), as have several tourist destinations. Public bus transport has now resumed as normal and domestic flights can carry 100% passengers instead of 80%. Masks continue to be recommended, but are no longer mandatory and are not worn widely now.
As a result, Hagar staff have been able to start travelling to provinces to meet with clients and conduct field assessments again. While Hagar staff were able to return to the office several weeks ago, they were unable to travel due to the restrictions and still had to conduct meetings and sessions with clients over the phone. However, 100% of Hagar Vietnam's operations are now running again and a big area of focus going forward will be helping existing and former clients find new economic opportunities.
Survivor in Focus
Mai is one of the first clients that Hagar received when we first started working in Vietnam. Mai has been suffering from the trauma caused by domestic violence. Mai, with Hagar's partnership, gradually escaped the ghost of her painful past to become more independent and self-sufficient in her life.
Thanks to Hagar, Mai had the opportunity to receive vocational training and is currently working at a restaurant. Although the work is hard and her income is low, Mai works very hard to earn enough money to raise her high-school son and manage their living costs. With every day that has passed, she has to live in panic and worry about whether she and her son would have food to eat tomorrow.
Although the case has been closed for nearly two years, our mission of "the whole journey" has included, the case manager following up on Mai's situation during the pandemic.
"Knowing the difficulty she was facing, Hagar quickly subsidized nutrition to ensure that she was in good physical and mental health. Particularly, understanding the stress and fears of being unemployed, the case manager provides Mai with information about government support packages and guides her on how to prepare and submit the administrative documents to receive this support." 
Thanks to the care and guidance of Hagar, Mai was relieved and less tense about the economic burden when she finished the registration for the government support package.
Hagar pursues the highest degree of care and protection for each of its clients. To protect the identity of our clients, names have been changed and images do not necessarily represent the individual profiled.