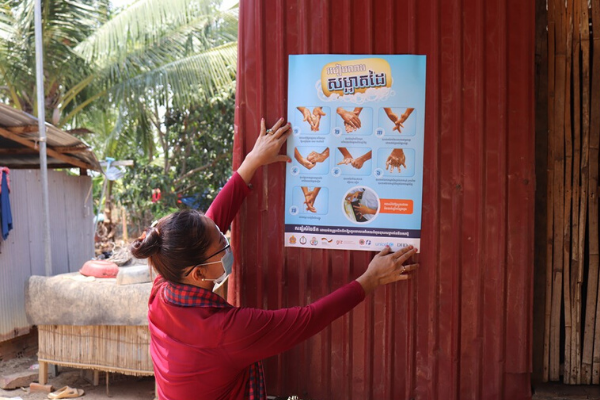 Cambodia has had no new COVID-19 cases reported for 30 days straight. Total confirmed cases are 122 as of Tuesday 12 May. 121 cases have been cured and discharged from hospital and only 1 still active.
However, the World Health Organization (WHO), Cambodian Prime Minister Hun Sen and the Minister of Health have called on the public to remain cautious about COVID-19. They reminded the community that a second wave of the virus is a "real threat".
Furthermore, Cambodia's key economic pillars, tourism and garment industries have all been hit severely with several hundred thousand formal and informal workers being affected in this sector alone.
More than 180 factories in Cambodia have suspended operations while another 60 are at risk of closure. The situation impacts 200,000 garment workers directly and two million others indirectly according to Garment Manufacturers Association in Cambodia (GMAC).
The government is reassessing the cost of assistance to laid-off garment workers affected by the COVID-19 pandemic as it braces itself to spend more on rising unemployment according to the Ministry of Economy and Finance.
Religious gatherings, schools, casinos and entertainment venues also remain closed.
Although schools remain closed, the Government continues to provide online teaching and learning. Some of our clients don't have a smartphone or can't access the internet which makes studying difficult. More recently the Government also introduced a distance e-learning program on TV. However, our clients in remote villages do not have access to this.
Due to the warnings from the Government and WHO, the counsellors are still unable to physically visit their clients, so they continue to rely on phone counseling.
On a more positive note, we are seeing the level of stress and anxiety of some clients reduce due the COVID-19 situation easing.
Survivor in Focus
Kakada is 22 years old, living in Phnom Penh. He returned to live with his mother and stepfather about a year ago. He currently studies International Business Management at university.
Kakada also loves to run own business rather than work for others. He was selling some second hand products (bells and bags) online when he had free time from his study. His business went really well and he could make money to support his living costs and study. However, things became extremely challenging and he has to stop his business in April due to the COVID-19 outbreak. Unfortunately, the supplier that he sourced his second hand items from had to shut down.
Since his school and business have been closed, Kakada stays at home with his mother. His mother is able to give him some daily food and he also gets some support from his friends from church. He is helping his mother with house chores and doing self study at home. Kakada said:
"It is a difficult time for me as I am an adult. I really don't want to depend on others as they are also in a difficult time as the result of the coronavirus outbreak. I feel concerned [that] when the school re-opens and my business is still not working that I need to pay for stationaries, research and food."
The case manager has assessed his needs and Hagar is going to provide emergency support including a food package and hygiene materials to Kakada for 3 months from May to July. The case manager will reassess his needs after this period. Kakada expressed: "I am happy that Hagar is going to support me during this hard time. Thank you very much for thinking of me and helping me!"
Hagar pursues the highest degree of care and protection for each of its clients. To protect the identity of our clients, names have been changed and images do not necessarily represent the individual profiled.