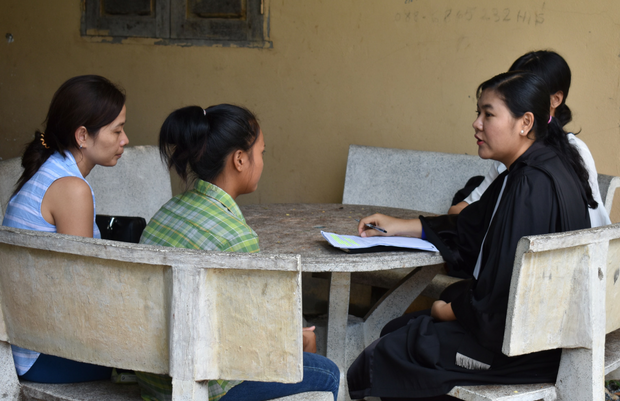 Two sisters find justice.
Makara is seven, and her big sister Sopheak is nine. They live in a rural province in Cambodia with their grandmother, who they moved in with a couple of years ago when their parents moved away. In the months that followed their move, both Makara and Sopheak were raped by a relative.
The girls had experienced severe trauma and were referred to Hagar for comprehensive care. Our case manager ensured that both Makara and Sopheak were safe and received trauma counselling, as well as school support and daily food support. Their case was brought to trial, and Hagar's legal officer carefully explained what they could expect during the court process, and prepared the girls extensively so that they wouldn't be re-traumatised throughout it.
"At first I was scared of the people in the courtroom, but they talked to me very kindly. I was happy to have my mum, grandma, my counsellor, the legal officer and my lawyer with me in court. If I went there alone, I would have been scared of court."- Makara.

"Both girls testified very clearly and confidently in Court. They are very brave and I am really proud of them."- Sotheary, Hagar's Legal Officer
At the conclusion of the trial, the perpetrator was sentenced to 10 years' imprisonment for rape with aggravating circumstances. Now, Makara and Sopheak have been able to return to a sense of normalcy. The girls love to play hide and seek, and Sopheak loves to dance. Sopheak helps around the house after school and teaches Makara to read and write; she wants to be a teacher when she grows up.
We are committed to walking the whole journey with Sopheak and Makara, and many women and girls like them.
Hagar pursues the highest degree of care and protection for each of its clients. To protect the identity of our clients, names have been changed and images do not necessarily represent the individual profiled.